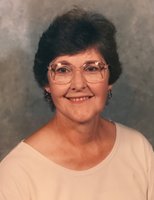 Pauline Patricia Lambdin
"Pat" Lambdin was born in Wellington, Kansas To parents William Paul Winslow and Mary (Frankum) Winslow. She and her family lived in Dalton, Kansas. She was the oldest of three children: brother, Carroll Winslow and sister, Jorita (Winslow) Sorenson of Santa Paula, California.
Pat and her husband, Paul Sherman Lambdin, were blessed with four boys; Larry Christian Lambdin and wife Paula of Lake Tahoe, California, Dennis Dean Lambdin of Broken Arrow, Oklahoma, Kevin Lambdin and wife Melanie of Sand Springs, Oklahoma, Phillip Noel Lambdin and wife Kim of Wichita, Kansas, as well as ten grandchildren and several great-grands.
After moving to Sand Springs in 1987, Pat joined Angus Acres Baptist Church, now Angus Church, and worked for her son, Kevin, at Popingo Video for 20 years. Pat's life was her home and her family. She took great joy in cooking and serving them. She enjoyed doing all the little things for her family to make everything special. Pat also loved spending time at the beach with her sister and other family members.
Pat was preceded in death by her beloved husband Paul Sherman Lambdin, her parents William and Mary Winslow, her brother Carroll Winslow and a granddaughter Dara Lambdin.
Serving her Savior and her family were the great joys in Pat's life. She looked forward to being in the presence of Jesus Christ and being reunited with her beloved Paul.