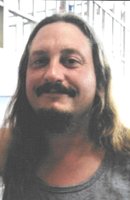 Matthew Alan Reed
.
Matthew Alan Reed of Tulsa went to be with the Lord on September 30, 2017 at the age of 44. Matthew was born in San Jose, California on August 28, 1973 to parents Dan L. Reed and Alice Marie (Hudson) Reed.
Matthew worked as an auto mechanic. He thoroughly enjoyed working on cars at work as well as for friends and family. He was very giving with his time and talent and never expected anything in return. Matthew was ornery, had a wonderful sense of humor and loved being with his family.
Matthew was preceded in death by his father Dan Reed; and brother Michael Reed. He is survived by mother Alice Reed; son Zachery Reed; brother Mark Reed and wife Brandi; step-children Alexandria Pearson and Lauren Scott; nieces Maddy Reed and Emily Reed; great-niece Alice McBride; numerous aunts, uncles, cousins and friends.
Funeral Services are scheduled at 10:30 am on Wednesday, October 4, 2017 at Green Hill Funeral Home Chapel. Burial will be in Green Hill Memorial Gardens. The family has entrusted the services to Green Hill Funeral Home. 918-224-2312 / www.grrenhillok.com