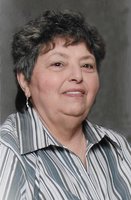 Elida Aribert Butts
Elida Aribert Butts was born March 17, 1946 in Peoria, Illinois to Ben and Charlotte Engle. She passed November 15, 2017 in Sapulpa, Oklahoma with her daughter Karen at her side.
Throughout her life, Elida was happiest when she was helping to provide for others, through her excellent cooking, baking, bourbon ball making, crafts and sewing. Everyone's home was a recipient of her kindness and love. Whether it was custom pillows and curtains, a wreath or a floral arrangement, her love was evident to all. Prior to her stroke in March of 2015, Elida was spending time volunteering at the Kiefer Senior Center and enjoying her great-granddaughters. In her early days at the nursing home, she and her nurse Ashley worked together and won first prize in the Christmas door decorating contest. During her time in the nursing home all her aides and nurses came to love her sense of humor and her quick wit.
She also had a green thumb for flower gardening. Everyone's roses bushes and other flowers were better off when Elida came to visit. She was known to remove spent flower heads and give advice.
Elida was preceded in death by her parents, Ben and Charlotte Engle, and her grandson Gregory Smith. She is survived by her daughter Karen Isham and husband Tim Isham of Sapulpa, her daughter Karrie Smith of Hollister, CA, her son Lonnie Autry, Jr. and wife Gigi Brisson of Seattle, WA, grandson Phillip Isham of Sapulpa, grandson Michael Isham and wife Kristie Isham of Sapulpa, her granddaughter Gabrielle Smith of Hollister, CA, grandson George Smith of Hollister, CA, great-grandsons Kyle Kindley and Kaleb Kindley of Sapulpa, and great-granddaughters Brekyn Isham and Aspyn Isham of Sand Springs. Elida is also survived by her siblings Erron Engle and Evon Hoover of Sapulpa along with many nieces and nephews.
Memoial Services are scheduled at 10:30 a.m. on Saturday, November 18, 2017 at Green Hill Funeral Home Chapel. The family has entrusted the services to Green Hill Funeral Home. 918-224-2312 / www.greenhillok.com