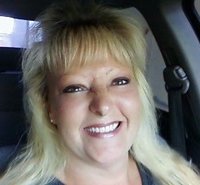 Patricia Ann Rivett
Patricia Ann Rivett, "Patty," of Sapulpa went to be with the Lord February 3, 2018 at the age of 47. She passed away at Beacon Ridge Nursing home. She put up a valiant fight but lost her battle to cancer. She was born in Tulsa, Oklahoma August 18, 1970, attended Sapulpa Public Schools and graduated from Sapulpa High in 1988. She was a bank teller and also worked at Rivett's Rt. 66 Café. Patty loved her family and friends as well as singing, fishing, riding motorcycles and watching football with her daddy. She loved life and all of God's creations – especially cats. She was a ray of sunshine and a force of her own. She was loved by so many people and will be missed by all who knew her.
Patty is survived by her father, Ken Rivett of the home, her sisters Karen Butler and husband Les of Sapulpa, Susie Slaybaugh and husband Jimmy of Sapulpa, Angie Russell of Sand Springs, nieces & nephews Chrissy, Cheyenne, and Wes Hames, Haylee and William Hames, Heather, Wally, Blake & Kaylynn Sexton, Donovan Legrand, Britni Kelso, Justin Kelso, Hailey Dye, Baily Hillis, Nick Hillis, Bradley Wyrick, Abby Wyrick and many great nieces & nephews.
The family wishes to thank Beacon Ridge nursing home and Gail Grisham for all of their care and compassion as well as Cura Hospice – Dan, Pam & Tony – for their support and care.
Funeral Service will be held on Thursday, Feb 8 from 2:00 PM at Green Hill Funeral Home Chapel, Sapulpa 400 East Teel Road, Sapulpa

Visitation will be held on Wednesday, Feb 7 from 3:00 to 8:00 PM at Green Hill Funeral Home, Sapulpa 400 East Teel Road, Sapulpa



.