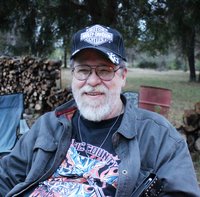 Jimmie D. Lowe
Jimmie Dean Lowe was born June 20, 1948 in Sterling, Kansas to Vernon and Helen Lowe. He passed away at his home in Sapulpa March 9, 2018 at the age of 69.
Jimmie loved music of all kinds. He enjoyed singing and playing the guitar. He and his brother Ron sang and played together for many years. He also sang to his wife Donna at their wedding in 2001. He liked crafting leather work and made many billfolds, wallets, belts, a purse and a coaster set and gave most away to friends and family. He was a motorcycle enthusiast and owned 2 Harley Davidsons, a bike and a trike. He and Donna enjoyed short trips together locally as well as trailering the bike, driving to California and setting off together to see the sites there.
Jimmie was a bighearted and honorable man, generous to a fault. He had a sarcastic sense of humor and kept everyone around him laughing. There are many stories that could be told about Jimmie, but few are suitable to be shared on paper. He was well loved and will be greatly missed but he left a treasure behind in the memories he made with family and friends.
Jimmie was preceded in death by his parents Vernon and Helen Lowe; 7-week-old son Jimmie and daughter Sheila. He is survived by his wife Donna Lowe; brother Ron and sisters Gaylene and Jan; as well as many friends.
Graveside Funeral Service will be held on Tuesday, Mar 13 from 2:30 PM at South Heights Cemetery 1815 South Ridgeway Street, Sapulpa
The family has entrusted the services to Green Hill Funeral Home. 918-224-2312
www.greenhillok.com
.