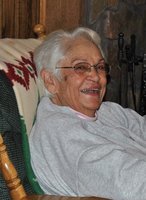 Phyllis Ann Montgomery
Phyllis Ann Montgomery was born in Sapulpa, Oklahoma June 27, 1935 to Hubert and Delphia Smith. She was the oldest of 3 children. She grew up in Sapulpa and graduated from Sapulpa High School. She transitioned to her Heavenly Home on March 11, 2018. She was 82 years old.
Phyllis married Norman Montgomery on July 3, 1953. She attended Allen Freewill Baptist church for many years and worked as a Veterinarian Assistant for Dan Jones, DVM and for Tom Ritchie, DVM, retiring after Dr. "Doc" Ritchie passed away. She had an amazing love for animals. She rescued many baby animals nursing them with eye droppers and baby bottles including squirrels, puppies, kittens, pigs, calves and even a racoon. She enjoyed being outdoors and loved spending time with her grandchildren teaching them to fish in the pond, camp and cook over a campfire in a cast iron skillet. She loved gardening, growing flowers, fishing, camping, horseback riding and had a quite a reputation for making excellent food.
Phyllis is survived by her husband Norman Montgomery; son William Montgomery of Mannford; daughter Lee Ann Duncan and husband Dennis of Sapulpa; grandchildren Trevor Lackey and wife Tresa of Fairview, OK; Cody Duncan and wife Kim of Sapulpa; Carrie Bolesky and husband Brandon of Mounds; Paula Montgomery of Sapulpa; Sonny Montgomery and wife Ashley of Drumright; Risa Harwood of Kellyville; Jessica Montgomery of Sapulpa; Levi Montgomery and wife Britney of Kellyville; sister Margaret Haught and husband Jim of Sapulpa; brother Ray (Bud) and wife Beverly of Sapulpa; as well as a host of great-grandchildren and great, great-grandchildren, nieces and nephews.
She was preceded in death by her parents Hubert and Delphia Smith and infant daughter Paula Gail Montgomery.
Phyllis was loved by many. The memories made with family and friends will be treasured forever.
Graveside Funeral services are scheduled at 10:30 am Thursday, March 15, 2018 at South Heights Cemetery. Visitation will be at Green Hill Funeral Home on Wednesday, March 14th from 5-7 pm. The family has entrusted the services to Green Hill Funeral Home. 918-224-2312