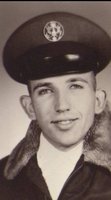 Terry Lee Rivers

Terry Lee Rivers passed away of Tuesday, March 27, 2018. Terry was born October 29, 1941 in Sapulpa, Oklahoma to parents Felix and Vivian Rivers. Terry was preceded in death by his parents and his wife, Sue Barnhart Rivers of 40 years.

Terry leaves behind his wife of 13 years, Eve Rivers of Sapulpa, Oklahoma. Daughter Kim and Doug Thomas of Aubrey, Texas. Daughter Tera and Kenneth Rabe of Forney, Texas. Step-daughter Dawn Brown of Glenpool, Oklahoma. Grandsons Levi Thomas and Grant Rabe. Granddaughters Courtney Hambright and Chelsea Elbert.
In lieu of flowers, the family requests donations be made to the American Cancer Society or The Salvation Army.
Graveside Funeral Service will be held on Friday, Mar 30 at 2:00 PM at Green Hill Memorial Gardens 400 E. Teel Rd., Sapulpa
Terry's Final Resting Place will be Green Hill Memorial Gardens 400 E. Teel Rd., Sapulpa