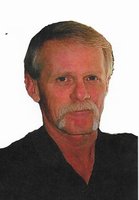 Marc Thomas McMunn
Marc Thomas McMunn was born March 26, 1955. He passed away suddenly on Saturday, April 7, 2018, at the age of 63 years.
He is survived by daughter Shannon Maxwell and husband, Jason, of Bristow, son Ronnie McMunn of Sapulpa; grandchildren Brooke, Graycie and Kade; sister Linda Meakes and husband Al, of Livonia, MI; brother Steve McMunn and wife, Debbie, of Sapulpa; many cousins, nieces and nephews as well as his beloved dog Buzz. Marc was preceded in death by his parents Ronald McMunn and Marietta Bridgeman.
Viewing will be held Friday, April 13 from 5-8 pm at Greenhill Funeral Home in Sapulpa. Services will be on Saturday, April 14 at 12:00 pm at the Way Church (former Westside) 811 W. Taft, Sapulpa. Interment will follow at Green Hill Memorial Gardens in Sapulpa.
The family has entrusted the services to Green Hill funeral Home. 400 E. Teel Rd. 918-224-2312/www.greenhillok.com