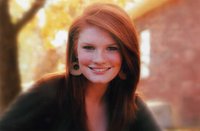 Jennifer Jeanann Krantz
Jennifer JeanAnn Krantz was born in Caracas, Venezuela, June 23, 1993 and passed away in Owasso, Oklahoma on December 14, 2012. Jennifer returned to Owasso with her family in December of 1996. She attended Rejoice Christian School and Owasso Public Schools and graduated from Owasso High School in May 2011. She was a former student at Rogers State University. She worked in retail sales, enjoyed music, working out and being with her friends.
She always had a way to make you laugh. She gave off a positive energy that just made anyone around her love her for who she was. Jennifer was a young beautiful woman inside and out. She was fun loving, had a lust for life and always had a smile on her pretty freckled face. Her positive outgoing energy was uplifting. Her sense of humor had a way to make you laugh. She was so fun to be around. Jennifer's beautiful red hair always shined and was so unique, just as she was, as a person. Jennifer was a kind and caring person whose life on this earth was way too short. She is now an angel of God looking over us from Heaven.
She was survived by: her parents, Jim and Gilda Krantz; older sister, Elizabeth Krantz; grandparents, Werner and Marjorie Knigge, all from Owasso/Collinsville area; and grandfather James Krantz, of Ladylake, Florida; and a host of loving aunts, uncles, cousins, and friends.
Rest in Peace Jennifer. We love you!