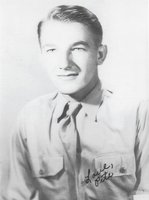 Melvin Maurice "Pete" Fuqua
Melvin "Pete" Fuqua was born October 22, 1927 in Pittsburg, Oklahoma to parents Franklin and Ida Mae Fuqua. He was reunited with his wife and other loved ones in Heaven on October 20, 2018 at the age of 90.
Pete met his future wife, Shirley, in Wichita, Kansas through a neighbor and the couple celebrated 60 years of marriage before her passing in 2016. The couple was blessed with two daughters, Colleen and Cathy. Pete served in the United States Army and later worked as a tile setter. He was a good natured and orderly man. He liked everything neat and in its place. With the help of his family, he built a home in Sapulpa in the 70s where they lived together for many years. He was a frugal man and enjoyed cutting and burning wood during the winter. In the summer he enjoyed going to creeks in the Missouri and Arkansas area. He also enjoyed camping and traveling with his wife after he retired. Pete liked gardening and shared the vegetable crops he grew with many people over the years.
Pete was preceded in death by his parents Franklin and Ida Mae Fuqua; wife Shirley Fuqua; and a stillborn baby daughter. He is survived by his 2 daughters, Cathy Cooper and husband Dana; Colleen Lowe and husband James; brother Jack Fuqua and wife Jeannie; 5 grandchildren, 8 great-grandchildren and many other friends and relatives.
A Memorial Service will be held at 10 am on Wednesday, October 24th at Green Hill Funeral Home Chapel. 918-224-2312 / www.greenhillok.com




.