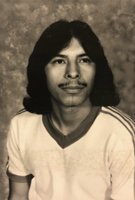 Vanis Eugene Dunn
On April 17, 1960, a man with a BIG sense of humor, Vanis Eugene Dunn, was born in Claremore, Oklahoma to Delbert Dunn and Shirley (Hardridge) Dunn. He passed at St. John's in Tulsa on October 26, 2018 at the age of 58.
He graduated from Kellyville High School and then went on to Bacone College where he met Ginger Maxfield. They had two daughters, Tonya Dunn and Michelle (Missy) Mahan of Arizona. He was a "Feather Man" and a life-long member of the Polecat Ceremonial Grounds. When he was younger, he loved to play basketball. He played independently with his brothers and team members as "Bad Medicine." He was a big fan of football; his favorite college team was the Oklahoma Sooners.
He was preceded in death by his father Delbert V. Dunn; mother Shirley (Hardridge) Brown; step-mother Wilma Dunn; brother Delbert T. Dunn; brother Ronald Brown; grandparents Tommy and Lola Hardridge; and Ralph and Martha Dunn. He is survived by his two daughters Tonya and Missy of Arizona; and his girlfriend Reyna Butler of Tulsa; his sister Debbie Toppah of Sapulpa; his brother Gary Dunn and his wife Julie of Tulsa; aunts Martha (Ruth) Dunn, Bea Buckley, Joyce (Christine) Johnson, Helen (Lucy) Jones; and a host of nieces and nephews. He is a man that will always be missed and loved.
Funeral Services are scheduled at 2 pm on Wednesday October 31, 2018 at Indian Fellowship Baptist Church in Oakhurst (6130 S. 58th W. Ave.). A Wake is scheduled at 7 pm on Tuesday, October 30 at Indian Fellowship Baptist Church. The family has entrusted the services to Green Hill Funeral Home. 918-224-2312