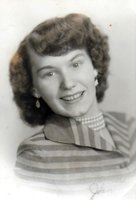 Ella Joan Creason
Ella "Joan" (Rush) Creason was born in Cushing, Oklahoma on April 24, 1933 to parents James Luther Rush and Linnie Edith (Raiburn) Rush Lairmore. She went to be with our Lord on November 8, 2018 At 1030 am at the age of 85.
Joan married Melvin Harold Creason on November 21, 1951. They were married 53 years and 3 days prior to his death on Nov 24, 2004.
Also preceded in death by her son Melvin Harold Creason Jr. his wife Brenda Sue, an infant daughter Amy (who she never held), her grandson Landon Jewell, her parents: James Luther Rush, Linnie Lairmore and stepfather Albert Rush. her brother James Luther Rush Jr, and sister Elva Mae Rush Ross.
She is survived by her children: Darrell (Pete) and Paula Huls of Chelsea, Al and Denise Buschman of Owasso, Jeff and Nancy Creason of Beggs, John & Debbie Creason of Tulsa, Mitch and Rebecca Newton of Beggs, Mark and Nancy Down of Tulsa, Sister in laws Virginia Imogine Ross Graham of Sapulpa, Charlene and Bob Daniels of Sapulpa.
Joan is survived by her grandchildren...her pride and joy! Cheri Creason Jewell, Shawn and Connie Creason, Zach and Kathryn Knoll, Clay Huls, Randy and Elaine Creason, Justine Glynnis Houseman, Leah Creason Shepard, Allison and Trent Braziel, Steffen and Deni Bougher, Drew and Jessica Creason, Clint Newton, Kyle Newton, Caleb and Nicole Preston Downs, Macy Downs.
Step-grandchildren Terry and Tammy Buschman, Robyn Buschman, Alicia Buschman Vedder and Ruben Apodaca, Michael and Sheana Buschman, AJ Wynn, Carrie Wynn, Katelyn Wynn, David and Melissa Newton, Austin and Jaymee Bahr.
Great grandchildren: Zoe, MaKenzie, Stephen, Shelton, Trent, Keagan, Kennedy, Ethan, Alex, Aurora, Korbin, Adalyn, Halli, Rachal, Trace Maverick, Gage and Paige Jewell, Majolica, James, Felix, Henry, Greyson, Witt Lee, Maverick, Peyton, Kierra, Kaden, Henry, Avery, Shooter, Stetson, Wyatt and Rachal.
Great great grandchildren: Maddox, Henley, Jesse & Ciara.
Joan is also survived and surrounded by a host of family, friends, brothers and sisters from the Living Way Tabernacle and Nuyaka Baptist Church. Most who knew her called her Mom, Granny or Sister Creason.
Funeral Services are Scheduled at 2 pm on Monday, November 12, 2018 at Green Hill Funeral Home Chapel. 400 E. Teel Rd. Sapulpa, OK 918-224-2312
www.greenhillok.com