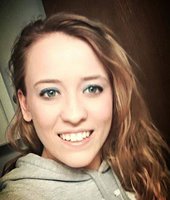 Brandi Taylor Slaton
Our hearts are broken in having to announce that our beloved, beautiful, and kind-hearted Brandi Taylor "Tay-Tay" Slaton, 25, of Kingston, OK, left this world unexpectedly on January 5, 2019 in Sapulpa, OK.
Brandi loved to laugh, have fun, and enjoyed the simple things in life. Her favorite things included going to the lake, sitting around the campfire, riding 4-wheelers, exploring new places, and most of all spending time with her family and 3 daughters, who she loved and adored with all her heart. Brandi brought so much joy and love to all of those around her. Her smile was infectious to everyone she met. She will be remembered for her kindness to others and her "mama-bear" protectiveness of her children. While those of us left behind will mourn our loss, we know that one day we will see her again and know that she will continue to watch over us from heaven above.
Brandi was born in Stillwater, OK on March 26, 1993, and is survived by her father, Ernie Slaton and wife Aimee of Collinsville, OK; her mother, Cathie Bailey and husband Adam of Kingston, OK; sister, Amber Fulks and husband Ronnie of Kellyville, OK; brother Kayle Slaton and wife Casey of Sapulpa, OK; and step-brother, Joshua Henson of Stillwater, OK; along with her three daughters, Kiah, Letty, and Kimber, her grandparents, nieces and nephews, and numerous cousins.
A Celebration of Life will be held at a later date.
In lieu of flowers, the family asks that you do an unexpected and unsolicited act of kindness in Brandi's name.
www.greenhillok.com