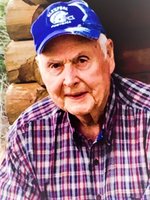 Tommy L.. Mason
Tommy Lee Mason, 87 of Glenpool, OK passed away at Jack C Montgomery Veterans Hospital in Muskogee, OK on March 8th, 2019. He was born May 2nd, 1931 in El Reno, OK to Thelma Mae (Morgan) Mason and Loren Lee Mason.
He was preceded in death by his parents and sister, Betty Hull and by his son Loren Brent Mason and his grandson Marshall Loren Mason. He is survived by his wife Claudene and two daughters, Debi Ogg and Melinda Anthony, both of Tulsa and daughter-in-law, Charlotte Mason of Glenpool. He is "Papa" to 9 grandchildren: Angela (& Robert ) Swain, Matt (& Amy) Anthony, Marshall (& Nicole) Mason, Alison (& George) Raptou, Mandi Mason, Chance (& David) Ogg-Breshears, Mallory Anthony, Mason (& Stefany) Anthony, and Sierra (& Whitney) Mason. He is also survived by 5 great-grandchildren: Lane, Maia, Loren, Holden and McKenzie.
Tom grew up in Dustin, OK along with his sister, Betty and brothers Carl and Morgan. He often stated that he wished every child could have the wonderful parents and childhood he had.
After graduating Weleetka High School, he served 4 years in the U.S. Navy. While stationed in San Diego he met his future wife, Claudene, and they have shared their lives together for 65 years. He was a husband and father who provided a loving and happy home for his family. A selfless and generous man who unfailingly placed others needs ahead of his own.
Tom LOVED his family. He made sure all of his nieces and nephews knew they were always welcomed. Family gatherings were a guilty pleasure that allowed him to perfect his love and passion for barbequing and provide the freshest vegetables from his garden. He loved a good auction and bringing home new projects. His favorite spot was his front porch watching the sunset while telling a story but could also be found in his recliner anytime his beloved Sooners took to the field. Tom was loved and respected by many and will be fondly missed by all of us.
Funeral Service will be held on Monday, Mar 11 at 3:00 PM at Green Hill Funeral Home Chapel, Sapulpa 400 East Teel Road, Sapulpa.

Visitation will be held on Sunday, Mar 10 from 1:00 to 8:00 PM, with the family at the funeral home to greet friends from 4-6 pm, at Green Hill Funeral Home Sapulpa 400 E. Teel Rd., Sapulpa.

Tommy's Final Resting Place is in Green Hill Memorial Gardens 400 E. Teel Rd., Sapulpa.


.