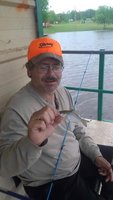 Cleveland Jennings "C.J." Ash, Jr.
Cleveland Jennings "CJ" Ash Jr.was born on September 22, 1971 in Huntsville Arkansas to Kathryn and Cleveland Ash Sr. until the age of 5.
CJ spent his school years in Sand Springs, Oklahoma where he graduated in May 1991. Following graduation, he went to work driving a dump truck and heavy equipment for Arrow Wreaking, K & T tracking and Demolition and Dunham Asphalt until his diagnosis of a ALS caused him to retire in 2012. CJ married Holly Elliott on August 24, 1991 they had two amazing boys Roy-Sean and Andrew in their 27 years of marriage.
CJ never met a stranger he was known as "Mr. Mayor" around the ballpark where he played for over 10 years. He spent every weekend from March through October at the dirt track cheering on his racing family as well as hunting and fishing as much as he could until his body no longer allowed him to do so. CJ fought his long battle with ALS with a head on " it won't get me attitude" for over 16 years until finally he lost that battle on March 8, 2019 surrounded by his family and friends. CJ was loved and will be missed by so many.
CJ was preceded in death by his father's Cleveland Ash Sr. & Edward Swayze. Grandparents America & Hugh Ash, Ethel Sloat, Claude Miller, Polly & Andrew Swayze. Sisters Bertha Hawkins & Tammy Swayze. Brother Larry Ash. CJ is survived by wife Holly Ash. Sons Roy-Sean and Andrew Ash. Brothers JC & Marylin Ash, Richard & Amanda Ash, George and Jamie Ash, Doug Swayze & Nicole Feness, Eric Swayze, and Teresa Swayze. as well as many nieces, nephews, aunts, uncles, cousins, and friends, and a racing and softball family that loved him and will miss him always.

Funeral Service will be held on Wednesday, Mar 13 at 2:00 PM at Church of Christ - Sand Springs 4301 S. 113th W. Ave., Sand Springs

Visitation will be held on Tuesday, Mar 12 from 5:00 to 8:00 PM at Green Hill Funeral Home Sapulpa 400 E. Teel Rd., Sapulpa

C.J.'s Final Resting Place at Woodland Memorial Park Sand Springs, Sand Springs


.