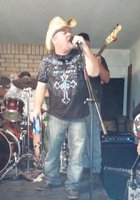 Robert L. Charles Sherman
Robert is preceded in death by his grandparents, Myrtle and Alfred Sherman, his Uncle Kenneth Shelton, his Aunt Rhonda Sherman, and his cousin, Brian Sherman. He is survived by his mother, Barbara Sherman, his sister, Christina Sherman, his wife, Tina Sherman, and his two children, Austin and Robin Sherman.
Robert was a talented musician and chef. It was through these mediums that he shared so much love with those around him. Robert also loved to camp, read, tell jokes, make wine, entertain those around him, and spend time with his family and friends.
Robert will be remembered as an amazing father, husband, brother, son, and friend. He forever changed the lives of those he touched. He was loved by so many and will be deeply missed.
In lieu of flowers the family asks that you consider a donation in Robert's name to Caring Community Friends - Address: 12 W Burnham Ave, Sapulpa, OK 74066 Phone: (918) 224-6464 Website https://www.caringcommunityfriends.org/
Memorial Service - 3:30 pm Friday March 15, 2019 at Green Hill Funeral Home Chapel Sapulpa.
www.greenhillok.com