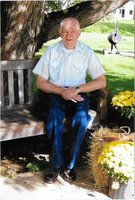 Troy Leon Freeman
Troy "Leon: Freeman was born in Wagoner, Oklahoma September 17, 1935 to Ellis and Nora Freeman. He took his first steps into his new Heavenly Home May 7, 2019 at the age of 83.
Leon served in the United States Army in the 1950s. He spent many years working as a farmer. He enjoyed drinking his Dr. Pepper while fishing and playing dominoes with his friends at the Baptist Village where he lived. He liked playing the hand bells, watching (and laughing) at "The Andy Griffith Show," eating "Little Debbie" snacks, and going on outings with family and friends. He enjoyed eating at "The Boomerang" and especially if someone else was buying. He liked to stay up late and sleep in late in the mornings and he often ordered things from the cheap mail order magazines.
Leon was preceded in death by his parents Ellis and Nora Freeman; brothers James Rhodes, Bob Rhodes, Odell Freeman, Earl Freeman, Don Freeman; and sister Lorene Tanksley. He is survived by daughter Laura Wheatcraft; son Frank Freeman; sister Linda Millburn; grandchildren Matthew Wheatcraft, Sergeant Nicholas Wheatcraft, Brooklyn Wheatcraft and Madelyn Buttman; great-grandchildren Alaxander, Evan, Ethan, Max, Suriah, Jeremiah, Jaxton and Alayna; as well as many nieces and nephews.
Visitation - Sunday from 1:00pm - to 8:00pm May 12, 2019. Family will be there from 2:00pm - 4:00pm to greet friends.
Funeral Service - Monday 10:00am May 13, 2019.
Final Resting Place - Moodys Cemetery in Moodys Oklahoma.
www.greenhillok.com.