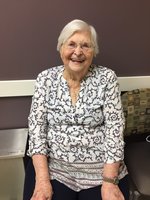 Bonnie Dugan Peebles
Bonnie Lee Dugan Peebles was born on October 19th, 1929 to Nora Lee McFarland Dugan and Isaiah Jackson (Jack) Dugan in Kiefer, Oklahoma.
Bonnie was their 8th child and the baby of her family. Her dad told her she was the reason for the stock market crash of 1929. He also told her she was named after the family cow.
While Bonnie was still a toddler, the Dugan family traded houses with the Lierly's, who lived a short walk down the road. It was in this house that Bonnie grew up.
Bonnie attended Kiefer schools and graduated in 1947.
She worked as a telephone operator in Kiefer for a while before moving to Tulsa where she attended and completed a certification program at Draughon School of Business.
Bonnie worked for American Airlines. It was during this time in February 1952 when a mutual friend of Bonnie and her future husband, Harold Wayne Peebles, introduced the two of them. It was a Sunday evening.
The two began dating and were married on January 16th, 1954, at her parents' home in Kiefer. The couple made their home in Tulsa.
Bonnie continued to work for American Airlines until she began to show in her pregnancy. Then the company forced her to quit her job.
While in Tulsa, Bonnie gave birth to her three daughters. She had to wait nearly two more decades before giving birth to her favorite child.
In 1958, the family moved to Kiefer so Harold and Bonnie could begin building their home on acreage purchased from Raymond and Shirley Dugan. With the help of Jack and Raymond Dugan, the house was completed and the family moved in on December 15th, 1958.
During their early years in the home, Bonnie was a full-time mom and household manager. She was extremely active in the First Baptist Church in Kiefer. She played the piano for church services, weddings and funerals there for many years. It was also during this time that the youngest child of the family was born in 1961.
In 1967-68, Bonnie returned to Draughon School of Business to refresh her office skills. After completing her study there, she began to work outside of the home. She continued to work as asecretary/bookkeeper at Sapulpa Brick & Tile, Banner Engineering, Shoemaker Heating and Air Conditioning for a variety of misogynists, who underpaid and undervalued her, until she retired when she was 62.
Bonnie's disposition was pleasant and joyful. She rarely found fault in or criticized others. She believed in equal rights for everyone. She was quick to laugh – and during soap operas – quick to cry.
In November 1993, Bonnie was diagnosed with a congenital heart valve malformation and underwent open heart surgery to replace her aortic valve.
During Bonnie's latter years, she and Harold, accompanied sometimes by children and sometimes by friends, were able to travel in Europe. They enjoyed England, Scotland, France and Italy in their travels.
The birth of each grandchild and great grandchild was a source of tremendous joy and happiness for Bonnie, and she loved each of them dearly.
In November 2001, Harold passed away and Bonnie's grief was great. She developed congestive heart failure because of this but worked hard to improve her health. She continued traveling with her children and her sister Nell Francis. Bonnie remained a very active member in the church and enjoyed attending senior citizens in Kiefer.
In her later years, Bonnie endured several health issues, but her resilience and love of life kept her coming back. As her children are fond of saying, she was a tough broad.
The last couple of months of her life were extremely difficult and included being in the hospital for over two weeks. She was extremely happy to get back home, where she spent the last three weeks of her life. At 2:00 pm on Tuesday, May 7, 2019, Bonnie's heart gave out. She left her family that is heartbroken with her loss.
Bonnie was preceded in death by her husband Harold, her grandson Mark Patrick Sissons,
her parents, her brothers John Albert, Roy (Evelyn), and Raymond, and sisters Virginia (Richard), Ruby (Ed), and Sylvia (Price).
Bonnie is survived by her sister Nell Francis and sister-in-law Shirley Dugan. She is also survived by her daughters Waynelle Mason, Lynn Sissons, Norma Rush and her son Rob Peebles, along with her other daughter Israel Gambino.
Her surviving grandchildren are Misty and Chuck East, Samuel Rush, Andrea Sissons, Brooke and Brandon Mull, Violet Stephanie Rush and Joshua Eaton, Lindsey and Bradley Crane, Andrew Mitchell and Skylar Coffman.
Bonnie's great grandchildren include Andrew Charles, Alexander (Michelle), and Ashton East, Matt Oppal, Noah and Veda Rush, Iris Cook, Sophia, Isabella, and Eliana Sissons, Skylar, Saxton, and Kieran Mull, and Chloe and Riley Crane.
She is also survived by numerous nieces, nephews, and cousins.
Her family is thankful for Bonnie's love and support throughout the years and for the role model that she was for each of them.
Visitation - Friday May 10, 2019 from 6;00 - 7:00pm Green Hill Funeral Home Sapulpa.
Funeral Service -3:30pm Saturday May11, 2019 at Kiefer First Baptist Church 6 S. Main Kiefer, Ok. 918 321- 5647
Final Resting Place - Green Hill Memorial Gardens Sapulpa.
www.greenhillok.com