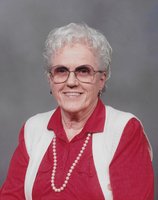 Mae A. Thomas
Mae Thomas (Auwers) was born April 2, 1921 in Lake Helen, Florida to parents Fredrick and Louella Auwers. She was welcomed into her new Heavenly Home May 8, 2019, leaving Stroud Health Care Center, at the age of 98.
Mae met Jimmie Thomas while he was stationed at a U.S. Naval Base in Jacksonville, FL during WWII. The couple was married, and their union blessed with 3 children; Jimmie, Diana and Iva Lou. She was a loving and kind mother, always putting her family before herself. Later she was a wonderful grandmother who adored her grandchildren. She lived in Florida until she was 74 when she moved to Oklahoma. She was a Christian and spent much of her free time in Florida working in her church.
Mae was preceded in death by her parents Fredrick and Louell Auwers; and daughter Iva Lou Thomas. She leaves behind a wonderful legacy in her family including son Jimmie Thomas; daughter Diana Webb; 5 grandchildren Kim Granger, Michael Granger, Jimmie Webb (Gala Webb), Scooter Webb (Leigh Matthews) and Misty Beach (Mike Beach); 17 grandchildren and 13 great-grandchildren.
Visitation - Sunday May 12, 2019 from 1:00pm - 8:00pm Green Hill Funeral Home Chapel Sapulpa.
Funeral Service - Monday May 13, 2019 at 2:00pm Green Hill Funeral Home Chapel Sapulpa.
Final Resting Place - Green Hill Memorial Gardens Sapulpa.
www.greenhillok.com