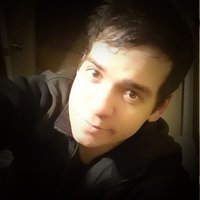 Austin James Henson
Austin James Henson (Stanford) was born in Tulsa, Oklahoma on May 28, 1995. He lived most of his life in Sapulpa, Oklahoma. He passed away on Friday, May 10, 2019 at the age of 23.
Austin was an amazing person and an old soul whose passion was music, a language anyone could understand. He was a self-taught guitar player who loved to write music and sing. He was especially proud when his audience was his mom. He also loved to cook and was a self-proclaimed salsa champion, sharing buckets of it with everyone at any opportunity he had. He would cookout for his family and then ask if he could take some over to his friends so they could enjoy it too. He was so considerate and had a knack for caring for others. He never met a stranger and would strike up a conversation with anyone close enough to listen. He loved the outdoors. Hiking, climbing, fishing, running and just exploring. He loved the mountains, whose peaks paled in comparison to the love he carried for both his mom and little sister who he adored the most. In many of his pictures he carried Emma on his back, giving others a glimpse at the unbreakable bond that only siblings could understand. He was never afraid to show his love for either of them and was often seen wrapping his arms around his mom, never giving a care as to who was watching. He had a huge heart and an infectious smile that anyone who knew him will never forget.
Austin was preceded in death by his grandpa Steve Stanford, great grandpa Stanley Wells, and grandparents Paula and Wyatt Bartley.
Austin is remembered with love by his mother Christi Henson, sister Emma Henson, father Steve Henson and Haskell Williamson Jr, brothers Braden and Blake Williamson, grandma Marsha Stanford, grandma and grandpa Carolyn and Haskell Williamson, uncles Phillip Stanford and Eric Williamson, and Aunt Carrie Cooper as well as numerous family and friends.
Honorary pallbearers Ashton Biles, Ben Azar, Logan Wilson, JT Velvick, Phillip Stanford, Daniel Contreras and Danny Landreth.
Visitation - Thursday May 16, 2019 from 12:00pm - 8:00pm. Family will be at the funeral home greet friends from 5:00pm - 7:00pm at Green Hill Funeral Home Sapulpa.
Funeral Services - Friday May 17, 2019 2:00pm Green Hill Funeral Home Chapel Sapulpa.
Final Resting Place - Green Hill Memorial Gardens Sapulpa.
www.greenhillok.com