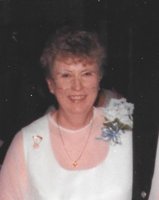 Shirley Mae Contreras
Shirley Mae Contreras, 84, passed away May 5, 2019 at Rainbow Health Center in Bristow, Oklahoma. The third daughter born to Virgil P. and Elva Wells on March 3, 1935 in Seminole. Oklahoma.
Shirley worked with Fox Cleaners until retirement. She was active in Easter Star and home hospice where she volunteered. She took many trips to Ireland and offered aid and comfort to friends and neighbors at Country Oaks in West Tulsa.
She was preceded in death by her youngest son Terry Contreras, her parents and three sisters.
She is survived by daughter Jenifer Hayden and Clint with grandchildren Stormy Phillips and wife Bryna, Nicona Guse husband Caleb and great granddaughter Carys. Son Ken Contreras wife Lillian and grandchildren Daniel Contreras and wife Elizabeth with 5 great grandchildren April Mitchell and husband James with 2 great grandchildren, Tambra McNatt with 4 great grandchildren, Jeffery McNatt and wife Karen and 5 great-grandchildren and 5 great-great- grandchildren also, granddaughter Trudy Smidt and family in Kansas.
Memorial Service - Saturday 10:00am May 18, 2019 at Joseph Catholic Church N. Elm Bristow, Ok. 918 367 6296
www.greenhillok.com