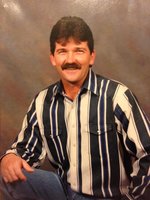 Alvis Joey "Joe" Canady
Alvis Joey Canady went to be with the Lord on Wednesday May 15th, 2019 at the age of 62. He was born in Sapulpa, Oklahoma to George Canady and Lois Russell (Wolfe) on December 10, 1956.
Joe grew up in the Sapulpa area and attended Sapulpa Public Schools. He was a retired US Army serviceman and welder. He loved God, reading the Bible, and attending church. He also enjoyed spending time with his loved ones and family gatherings during the holidays. He liked to make people smile with his charismatic nature and charming personality. Some of the things he enjoyed was admiring classic cars, fishing, swimming, playing games, cooking, watching animal/nature shows, and of course he was an avid Oklahoma Sooners football fan. BOOMER SOONER! Most of all Joe loved being a father to his only child and daughter. He had a very kind heart and positive outlook on life. His kindness and positivity impacted anyone he was around.
Joe was preceded in death by his parents George and Lois Canady, and his brothers Kenneth Canady and Rodger Canady. He is survived by his daughter Jennifer Forrest and her husband Austin Forrest; His sissy Karen Evans and sister in-law Karen Canady; Nephews Shannon Canady, Chad Canady, and Shawn Canady; Nieces Dana Linker, Kamie Zickefoose, and Kaylie Evans; as well as many more family and friends. His family will miss his compassionate and loving heart. They will cherish all the wonderful memories of time spent together.
Visitation - Sunday May 19, 2019 from 1:00pm - 8:00pm Green Hill Funeral Home Chapel Sapulpa.
Funeral Service - Monday May 20, 2018 2:00pm Green Hill Funeral Home Chapel Sapulpa.
Final Resting Place - Green Hill Memorial Gardens.
www.greenhillok.com