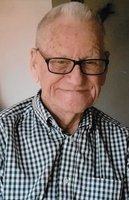 Andy Wallace
Herbert "Andy" Wallace was born on September 15, 1928 in Tulsa, OK. He passed away on November 12, 2019 surrounded by family at the age of 91. He was preceded in death by his wife, Ora Eveline, his parents, James F. Wallace and Mary Wallace and brother John Wallace and Jim Wallace and sisters Betty Keizor, Kay Daniels and Rosemary Bigby.
Andy is survived by son Jerry Wallace of Sand Springs, OK. Daughter Brenda McClain and husband Larry of Inola, OK, grandchildren Michael McClain and wife Julie, Andrea Doshier, Great-grandchildren Logan Rodgers and Kiley Doshier, other relatives and a host of friends.
Andy was married to Ora Eveline Wallace for 67 years. They had 2 children Gerald (Jerry) Wallace and Brenda McClain.
Andy worked for Conrad Industries until the company closed. He loved working out in "Andy's Doghouse" with his woodworking projects. Andy and Ora went on lots of vacations, and they enjoyed taking their children and grandchildren on several vacations.
Andy love spending time with his family and friends. Andy love his church family at Harrison United Methodist Church until it closed in 2015, and the Lake United Methodist Church.
www.greenhill.com