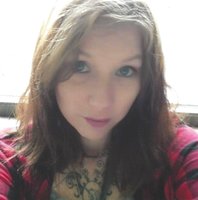 Erin Elaine Dishong
Erin Elaine Teeter Dishong was born November 22. 1985 to David Allen Teeter and Peggy Ann Hedge. She passed away November 19, 2019 in Chouteau, Oklahoma.
Her friends and family may know her as Kushikito. She was 33 years old when she left us to soon.
Erin loved reptiles and exotic animals and was very crafty. She had been a Sunday School teacher when she was younger.
She is survived by her daughter; Anjelle Pond; her mother; Peggy Ann Hedge; father; David Allen Teeter; sisters Dianna Applegate, Barbara Jean Hansen, and Christine Mason; brothers; James Mason, Donald Teeter, Daniel Teeter and family. She is also survived by her aunt; Karen Jean Puckett; cousins; Carolyn, Christopher and Jacob Puckett, Barbara DeAnne Thee, Roy, Jordan, Braden, Donald, Brittney, Jimmy and wife Debbie, Michael, and Danny Hedge. She is also survived by her husband Robert Dishong. They were married on May 17. 2015 at Whimsy Hollow Meadow.
Erin was preceded in death by sisters; Angela and Donna; grandmothers; Barbara and Freda; grandfathers; Leonard and Donald; and her Uncle Bill.
www.greenhillok.com