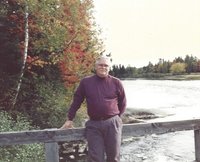 Jerry Wayne Fowlkes
Jerry Wayne Fowlkes came into this world on November 20, 1943 as the youngest child of Grady and Kathrine Hulme Fowlkes.
They were living in Vallejo California where Grady was working at Mare Island for the WWII war effort. After the war the family moved back to the Oklahoma City and Drumright area where Jerry grew up.
His father passed away when Jerry was 9 years old and his mother sold their farm and moved Jerry and his older brother Walter to a teacherage on the Olive, Oklahoma school grounds. He graduated from school in 1961.
Moving from Olive to Oklahoma City to continue his schooling at Oklahoma Institute of Technology in Oklahoma City, Oklahoma and earning an associate degree in Technical Illustration, he began his work career in the city at Aero Commander. He helped build the first 1121 Jet Commander.
He worked at KF Industries twice with a four-year break at Dayton Tire and Rubber Plant before starting his own shop Four J Machine Inc. for four years until a great recession in the oil industry in 1983 closed his company and many others.
He moved to Tulsa and worked for an uncle at FO-MAC before getting a job at American Airlines in 1984.
Along the way he met and married Jean Fanning of Oklahoma City and had three children; Jerry Boyd, Edgar Grady and Dianna.
Much to his dismay, his family did not want to move to Tulsa and his marriage ended. He married Judy D. and moved to Inola, OK for five years before they divorced, and he moved back to Tulsa. He married Linda Llewellyn Hughes in April of 1991.
While working at American Airlines, he was a supervisor production planner and special assignment initiator as well as a machinist.
All this experience prepared him for his favorite job at Ametek Chandler Engineering in Broken Arrow, where he said he got to play with adult-sized Tinker Toys and travel all over the world.
He was a hard worker and dedicated employee and loved his children dearly. He retired twice from Chandler after leaving American Airlines.
Jerry was a man with a soft, sensitive heart who loved to make people laugh and rarely met a person who did not like him. He was a strong Christian and joined the Gideons in the past 2 years. He believed that these little Bibles would solve the worlds problems and last forever, therefore we are asking that instead of flowers, you donate Bibles for the Gideon organization in his name.
Thank you for honoring him by being here with his family to mourn his passing and celebrate his entry into Heaven.
www.greenhillok.com