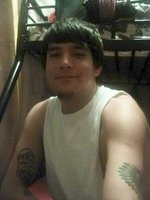 Nathan Alan Jack
Nathan A. Jack was born in Claremore, Oklahoma on October 5, 1991 to parents Noel and Vickie Jack and passed from this life November 25, 2019 at the age of 28. He lived in Kiefer, Oklahoma all of his short life.
Nathan was preceded in death by his mother Vickie Jack and father Noel Jack. He is survived by his wife Lorin Jack; children, daughter Mariah Jack, son Isaiah Jack, daughter Madison Jack, son Carson Jack all of Kiefer; brother Michael Jack; nephews Brysen and Cater Jack; as well as many aunts, uncles, extended family and friends.
Nathan loved his kids and they will be very saddened with his passing. He loved playing sports and went to Bacone University to play college basketball. Nathan was greatly loved and will be greatly missed. He would not want to cause anyone's heart to hurt today as we celebrate his life. Lastly, Nathan will live on here in Oklahoma. He was an organ and tissue donor and both of his kidneys were donated.
Services scheduled for Tuesday, December 3, 2019 at 10:30AM at Green Hill Funeral Home Chapel located at 400 East Teel Road, Sapulpa, OK 74066
Visitation is scheduled for Monday Decemeber 2, 2019 from 5:00 PM to 8:00 PM at Green Hill Funeral Home.
Graveside service following funeral service at South Heights Cemetery in Sapulpa, OK.