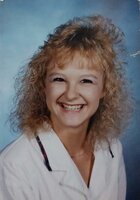 Billie Jeane Thompson
Billie Jean (Waters) Thompson was called to her Heavenly Home on July 17, 2022. She was born in Tulsa, Oklahoma on November 1st, 1972 to Barbara Jean Harris Waters and William Samuel Waters.
Billie married Troy Dale Thompson in Eureka Springs, Arkansas. Together they had four children: Kayton Thompson (29), Trey Thompson (26), Riyah Thompson (23) and Jordan Thompson (21) Billie was a loving "Mimi" to Riley, Julien and Brinley. Billie was the "little sister" to Angela and Jodi and an aunt to numerous nieces and nephews. Her family will remember her contagious laughter and daring spirit.
Billie was preceded in death by her parents, her husband, and her great-grandparents Mable and Vernon Harris.
A Memorial Service will be held at 11 am on Wednesday, July 27th, 2022 at Green Hill Funeral Home in Sapulpa.