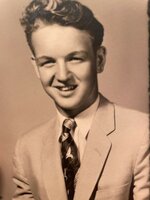 Don Ray Lucas
Don Ray Lucas was born to Clarence Ernest Lucas and Nancy Ann Lucas (Long) on March 25, 1941 in Blue Bell, Oklahoma. He passed away at St. John Medical Center in Tulsa August 9, 2022.
Don grew up and worked on the family farm with his siblings. He was the youngest of 7 children. He married Judy Ivy and the couple had two sons, Donnie and Greg. They enjoyed traveling with their boys and took them to the Grand Canyon, to California and often camped at Keystone Lake for weeks at a time.
Don worked at a local glass plant in Sapulpa for 20 years and for Wonder Bread for 20 years. He had great, self-taught skills at repairing both air conditioners and lawn mowers. He was a family man and always made sure that nobody was going without. Don also enjoyed watching and rooting for OU football and OU girls' softball. He loved Sarah's "black dog" and often threatened to get him a lawyer if he thought he was being treated unfairly. Don was an attentive grandparent and great-grandparent. He will be greatly missed by his family.
Don was preceded in death by his parents Clarence and Nancy Lucas; wife Judy Lucas, brothers Thelis, Junior, Jack, Jon and Floyd; and sister Maxine. He is survived by sons Greg Lucas and Donnie Lucas; granddaughters Sarah Stricker (Lucas) and Patti Smith; great-grandchildren Brian Lucas, Gracie Lucas, Pearl Taylor, Aaron Smith and Daisy Smith; as well as sister-in-law Opal Lucas.
"Great grandpa was special to me because he was always happy. He taught me to cook, color, laugh and write, even though he didn't have the best handwriting he still tried. He taught me to garden, and he was my fishing buddy. The most important part is that he was my best friend. We were so close and had a special bond and he always showed me love and never stopped. He would be my biggest fan when I would sing for him or cook for him. But most of all, he was my granddad." Gracie Lucas