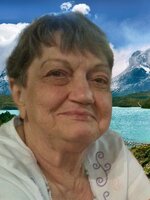 Betty Irene Knox
Betty Irene (Miller) Knox passed away September 11, 2022 at the age of 84. Betty was born in Longview, Texas on November 12, 1937 to George Washington Miller and Opal Lynney (Snow).
Betty was married to Ned Knox from 1972 – 1996 and Robert Aiken from 2001 – 2007. She was preceded in death by both husbands, son James White, her parents and siblings Dollie Wagoner and Bill Miller. She is survived by daughters Kathy Oakes (Richard) of Jenks, OK, Vivian Stephens (Bret) of Glenpool, OK, Mary Crow (Thomas) of Tahlequah, OK and Neddra Baty (Joe) of Owasso, OK. She is also survived by grandchildren Amanda Arnold, Tadd Crow, Todd Crow, Drew Stephens, Lindsey Stephens, Alisha Sanders, Jamie White, Jarin White, and 14 great-grandchildren.
For over 20 years Betty operated a home day-care in her home and retired in 2000. She enjoyed traveling, dining out and going to play at the casino. She especially loved all of her grandchildren and great-grandchildren.
Betty was raised in Tulsa, Oklahoma and lived for over 30 years in Jenks, Oklahoma. At the time of her death, Betty was living in Tahlequah, Oklahoma with her daughter and son-in-law Mary and Thomas. Betty had four daughters and one son.