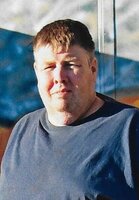 William Earl Gaines
William Earl Gaines was born in Sapulpa, Oklahoma on September 30, 1958. He went to be with the Lord September 27, 2022.
William loved people. He enjoyed going to church, playing guitar, fishing, playing dominos and other games. He liked watching movies and collected more that 300 movies on DVD. He also enjoyed collecting John Deere tractors and other memorabilia as well as police cars.
William was preceded in death by his mother Naoma Gaines and father William E. Blansett. He is survived by brothers William Blancett of Tulsa, OK and Ray Blansett of Glenpool, OK; sister Ella Blansett King of Tulsa, OK; sister-in-law Zelenda Blancett; nephews Michael Blansett and Bobby Blansett as well as extended family and friends.