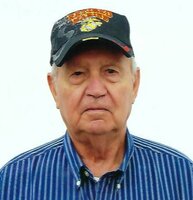 Billy "Billy Dean" Owens
Billy was born in Durant, Oklahoma on August 3, 1937 to Lawrence and Betty Owens. He had 4 brothers and 2 sisters. The family lived in North Texas during his early childhood and then moved back to Durant where he attended High School. After meeting the love of his life, Ann Rigsby, they married in Bonham, Texas in 1954. Billy and Ann had 3 children. Son Dave deceased at 45 with heart attack. Daughter Shirley Ann deceased with diabetes. Son Terry Dean resides in Owasso, Ok.
Billy enlisted in the Marine Corps in 1954 and served 3 tours of duty in Vietnam. He served as a Marine Corps Recruiter in Mankato, Minnesota and then returned to I & I Staff in Tulsa, Ok. He retired from the U.S. Marine Corps in 1973 with the rank of Marine Gunnery Sgt (E-7) in Tulsa, Ok.
Following his Marine Corps career he worked as an over-the-road truck driver for 8 years, then as a Postal letter carrier from 1981 until retiring in 2000.
He was an active member of VFW Post 7180 in Owasso, Ok and The Tulsa Marine Corps League.
Billy and Ann went on many ocean cruises including one to Russia. He loved attending NASCAR Races in person and enjoyed watching them on television. He loved his family and all his friends.
"Semper Fidelis"