Green Hill Funeral Home Introduces First-Ever Alternative to Ashes following cremation. Parting Stone is the developer of this new form of remains. See the press release below or contact Green Hill Funeral Home for more information.
Green Hill Funeral Home Introduces First-Ever Alternative to Ashes
Locals Among First with Access to Solid Alternative to Ashes Recognized as a World-Changing Idea
Sapulpa and Owasso April 28, 2020 – Green Hill Funeral Home will now offer a groundbreaking alternative to cremated remains. Green Hill is the first in the area to offer a beautiful, touchable form of "solidified remains" recently recognized by Fast Company Magazine with a World Changing Ideas Award.
Area families choosing cremation can now receive stone-like solidified remains that can be touched, held, shared, scattered or memorialized.
Owner and Funeral Director Tom Dugan says, "Many times the cremated remains of a loved one stored on a shelf in a closet because they don't really know what to do with them. Solidified remains can provide comfort to family by allowing them to touch them, hold them or carry them with them. For many, this is an alternative that is much more approachable."
Solidified remains was recognized in Fast Company's 2020 World Changing Ideas Awards, announced on April 28th, 2020, which honor the businesses, policies, projects, and concepts that are actively engaged and deeply committed to solving global challenges like, social injustice, mental health inequality, or climate change.
Parting Stone, the company that developed solidified remains, worked with material scientists at Los Alamos National Laboratory to develop a proprietary, patent-pending solidification process that returns the full amount of cremation remains to loved ones in a form that resembles a collection of polished stones. A 100-pound person results in about 35 individual "stones" ranging from thumbnail-size up to palm-size.
Following the death of his grandfather, Parting Stone founder Justin Crowe, realized that living with conventional cremated remains could feel uncomfortable.
"We believe that cremation should be more than just a convenient form of disposition. It is a profound opportunity to live with the remains of our loved ones, but conventional cremated remains can make that experience messy and unpleasant. We hope that solidified remains will allow people to form meaningful connections with their departed long after they are gone."
Solidified remains are now available as an option at 300 funeral homes nationwide.
Parting Stone - https://partingstone.com/?ref=GreenHill
WHICH FORM OF REMAINS IS RIGHT FOR ME?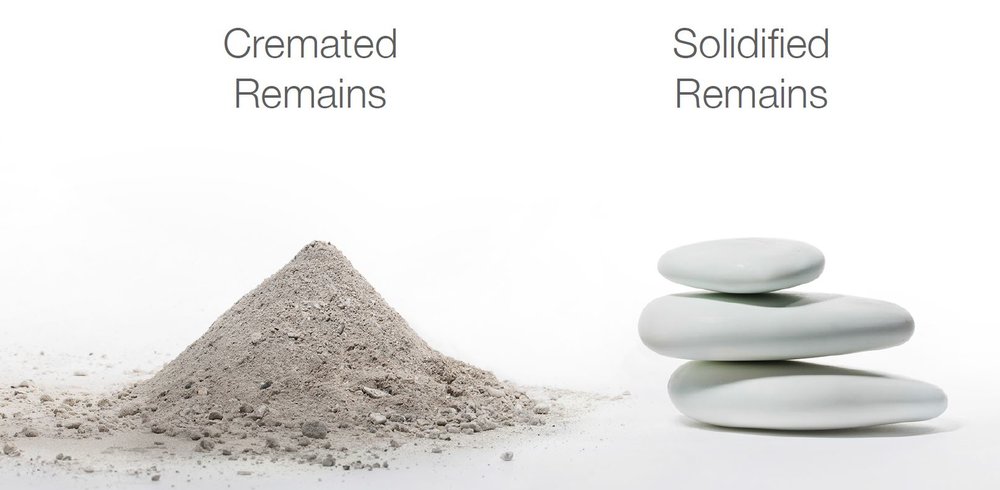 About Parting Stone

Parting Stone developed the technology to offer the full amount of cremation remains as a collection of "stones" called solidified remains. Solidified remains are a clean, comfortable, meaningful alternative to conventional ashes. Learn more at www.partingstone.com.
About the World Changing Ideas Awards: World Changing Ideas is one of Fast Company's major annual awards programs and is focused on social good, seeking to elevate finished products and brave concepts that make the world better. A panel of judges from across sectors choose winners, finalists, and honorable mentions based on feasibility and the potential for impact. With a goal of awarding ingenuity and fostering innovation, Fast Company draws attention to ideas with great potential and helps them expand their reach to inspire more people to start working on solving the problems that affect us all.
Video links
Origin Story Video: https://www.youtube.com/watch?v=x-JNewrTBis
Garth's Story (parents): https://www.youtube.com/watch?v=eJblSZ4PpTU
Chris' Story (son): https://www.youtube.com/watch?v=aMfrW-J_DMU
Trevor's Story (dad): https://www.youtube.com/watch?v=GBleK_c422k